January 2018 Updates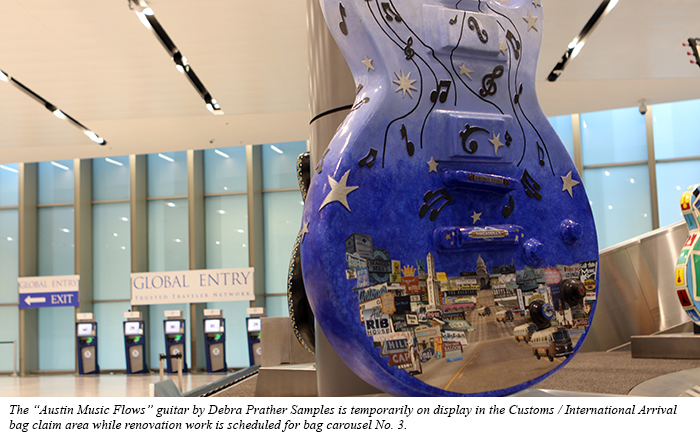 Find out where the eight iconic Austin airport guitars formally on bag carousel No. 3 are now. Zigzagging entries save energy at airport vestibules.
Airport guitars temporarily moved to Customs for carousel renovation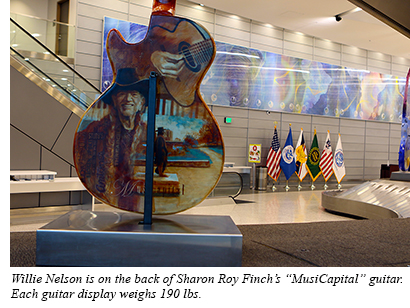 The eight iconic airport Gibson Guitars, that greeted visitors in bag claim to the "Live Music Capital of the World," have temporarily moved to the Customs / International arrival area. The change of scenery for the guitars was made in preparation for renovation to carousel No. 3. The guitars now provide a visual of the musical heritage of Austin to arriving international passengers.
The guitars were previously displayed on carousel No. 3, behind the True Patriot: Barbara Jordan Memorial Statue. Decorated by local artists, the fiberglass Austin themed guitars are nearly 11 feet tall, and 4 feet wide at the base. Each guitar weighs 75 lbs. and is mounted on a 75 lbs. stand, each with a stainless steel shroud with a plaque that weighs 40 lbs. This makes each piece a total of 190 lbs.
Now temporarily located inside Customs, the oversized guitar sculptures will return to carousel No. 3 a year after construction is completed. Carousel No. 2 bag claim is currently closed undergoing replacement.
The guitar collection is part the Austin Art in Public Places (AIPP) program that showcases community and cultural landmarks to highlight the identity of Austin, Texas. The guitars were made in 2006 and then loaned to the City of Austin. In 2009, Austin resident and businessman Milton J. Verret donated the guitars to the City and they were assigned to the airport.
Why zigzag at terminal entrance?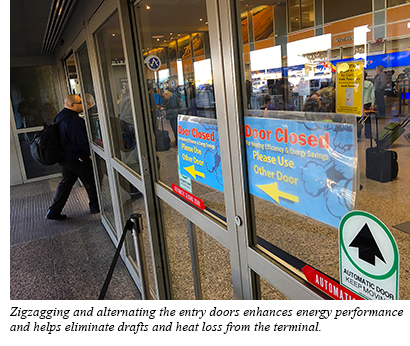 At times, do you wonder why the glass-sliding doors are staggered and passengers zigzag while entering and exiting the Barbara Jordan Terminal? This is purposely done, especially on cold days, to enhance energy performance of the heating system by eliminating drafts and lessening the loss of heat from the terminal.
As part of the overall airport improvement project, the airport is currently replacing the 13 vestibules, the main glass entry/exit ways to the Barbara Jordan Terminal.
The construction of four vestibules has been completed, two in upper-level ticketing and two in the lower-level bag claim area. The completed vestibules include the entry/exit nearest Checkpoints 1 and 2, and in front of bag claim No. 3 and the entry/exit nearest Customs. Each renovated vestibule has an additional 10 feet of entry space between the sliding-glass doors, which act as airlocks between outside and inside environments.
December 2017 Updates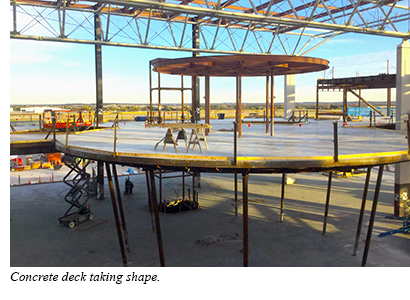 The addition of nine more gates, including new international gates and a patio with views of the east runway, reached the 'topping off' construction milestone. The airport's lighted guitar-shaped CapMetro bus stop opened, giving off a cool musical vibe.
9-gate expansion reaches 'topping off' milestone
Hensel Phelps, the prime contractor for the 9-gate expansion project at the Austin-Bergstrom International Airport marked a construction milestone on Dec. 8, 2017, when the last of 17 steel trusses to support the roof were placed. Each truss weighs 41,000 pounds and spans 135 feet by 17 feet.
With the steel structure completed, the expansion project overall is approximately 35 percent complete. Contractors are currently working on installing the roof decking and the building's exterior metal panels to match the existing terminal.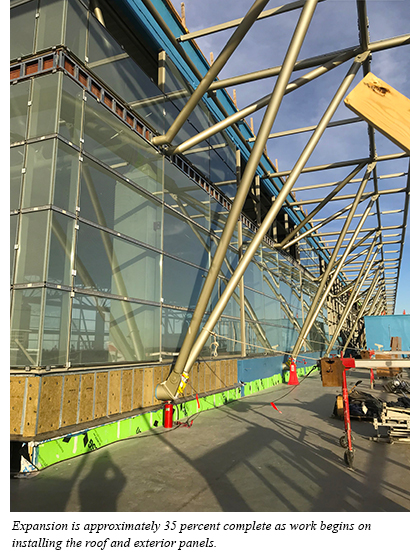 Approximately 20 percent of the 10' x 4' and 7.5' x 5' exterior glass panels are now up.  Four different types of exterior glass and glazing systems are being installed—clear vision, ceramic frit, frosted, and insulated spandrel glass with different levels of transmittance of visible light, solar energy and UV reflectance.
Jobsite facts from Hensel Phelps:
611,000  work hours as of Dec. 14, 2017
22,356 cubic yards of concrete placed for terminal building construction
14,500 cubic yards of apron pavement placed
2,002 workers
1,926 tons of steel used
125 subcontractors onsite
0 lost times accidents
Construction for the terminal expansion began in June 2016, and will add 88,359 square feet of new concourse space, nine additional gates and a wider concourse to the east end of the Barbara Jordan Terminal.   Gensler is the lead architect for the project.
Once completed, the 9-gate project will expand the concourse to 33 gates with jet bridges and will showcase a 5,770 square feet outdoor patio, a tower resembling Austin's iconic outdoor Moon Towers, new food venues and shopping, and more music and art space. Baggage handling systems, airline operation office space, security and other related ancillary facilities are featured on the lower level. The 9-gates are slated to open to customers in 2019.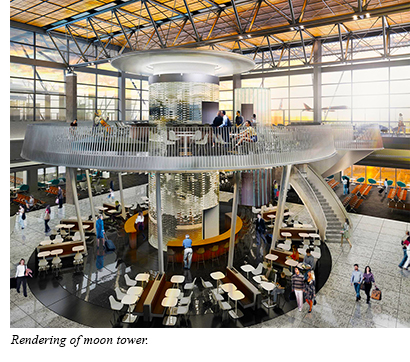 The project also includes adding 36 acres of additional airfield jet parking and movement areas and aims to obtain a LEED Silver Certification on the completed structure. LEED or Leadership in Energy and Environment Design certification issued by the U.S. Green Building Council to certify buildings are resource efficient in all phases of a project.
Airport guitar shaped bus stop gives off musical vibes
Now performing and continuing the musical-themed vibe at the Austin airport is the new illuminated guitar-shaped bus shelter for CapMetro. A ribbon cutting program was held to officially open the 45-foot high tilted guitar bus shelter that changes colors. It is located outside baggage claim, in the lower level. The CapMetro bus fare is $1.25.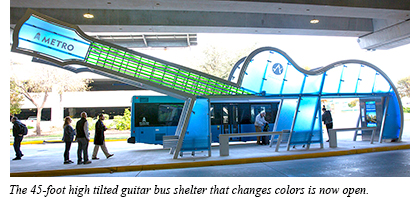 The construction also included sidewalk and accessibility improvements, benches, charging stations, and a 55-inch touchscreen monitor. The stop services the CapMetro 100 – Airport Flyer bus route that connects the airport to downtown and the 350 – Airport Blvd. route that connects to north Austin.
The project was a collaboration between City of Austin Department of Aviation, Public Works and CapMetro. The designer of the shelter was RS&H and the builder was Piatra.
Watch progress of parking garage via web camera
Austin Commercial, the general contractor for the new 6,000 space parking garage underway, each night utilizes 80 to 85 trucks to pour concrete. It is estimated that construction is approximately 25 percent complete, and the structure is up to the third level in some areas. The finished garage will tower six levels and is the size of three football fields long.
A construction web camera is stationed at the site to view the latest progress of the construction of the new garage. To view photos (updated every 30 minutes) and to watch the time-lapse movie of the new garage (slated to open in 2018), visit: http://workzonecam.com/projects/austincommercial1 
Book People store starts renovation
Book People, the largest independently-owned bookstore in Texas, has started construction on the re-design of its Austin airport store. The renovation will incorporate characteristics of its Austin, Texas downtown location on North Lamar Blvd., with the familiar blue logo and big comfy reading chairs in each section of the store.
Construction walls surround the 1,418 square foot space in the Barbara Jordan Terminal located across from Gate 11. A center reading lounge is included in the new design along with net-like facings and frosted glass walls. A reclaimed wood checkout counter with copper pendant lights are planned around the retailer's displays of its popular reading options that include bestselling and staff selected books, magazines, snacks, and travel items.
The west end of the store will include a 267 square feet Wi-Fi bar to accommodate passengers and to charge electronic devices. Renovation is expected to be complete in early 2018.

Carousel 2 bag claim undergoing replacement
With the completion of the construction that doubled the size of Carousel 1, contractors have started the replacement of Carousel 2. The I-shaped Carousel 2, at 138 linear feet will be replaced and modernized at the same size and is part of the overall airport improvement project.
November 2017 Updates
The East Food Court, across from Gates 7 and 8, is now closed for preparations to introduce new food options to passengers flying Austin. Tyler's Austin Warehouse retail store has opened across from Gate 10, offering Austin area inspired gifts and apparel.
East Food Court renovation begins
Construction walls are up at the East Food Court located across from Gates 7 and 8. This marks the closure, construction and introduction of new food and retail concepts in the East Food Court. Along with coffee and pastries offerings, the new concepts include The Peached Tortilla, Juiceland, and a bar featuring brew from the Live Oak Brewing Company.
The new concepts will replace Hoover's, Hill's Café, Nuevo Leon, and Wok & Roll. Auntie Anne's will remain open during some renovation work and later will convert to MAD Greens. Temporary Grab & Go kiosks will operate in the area during the food court renovation and restrooms and art gallery near the location will remain open during the construction.
The East Food Court is part of the airport's overall refresh plans for stores and concessions. Restaurants that recently completed construction and opened for customers include Second Bar + Kitchen, IVINI's Italian and the expansion of Salt Lick Bar-B-Que. Annie's Café and Bar on the west side of the Barbara Jordan Terminal is currently undergoing renovations, estimated for completion later this year.
Tyler's Austin Warehouse opens
Tyler's Austin Warehouse, an Austin themed retail store, opened on Nov. 4 at a new 2,211 sq. ft. location. The store is located across from Gate 10 in the Barbara Jordan Terminal.
The Austin souvenir and apparel store has a high beam painted mural roof, dotted with iconic city locations. Inside customers see bold AUS (the Austin airport code) lettering, serving as shelving. The store offers top brand names such as local outdoor products made by Yeti, along with international bestsellers, Billabong and TOMS, and specialty men's and women's clothing.
Local merchandise offered by Tyler's include Lalika Soaps, Inc. products such as body and face cream, lip balm and natural soaps — handcrafted, and made in Austin. Other products include Austin based Exit 82 items such as stone coasters, pet tags, coffee cups and key chains. Wrapped To Wear custom jewelry made in Austin and Cedar Park-based Coover Caramels candy and chocolates are also available.
Carousel 1 bag claim opens, doubles in size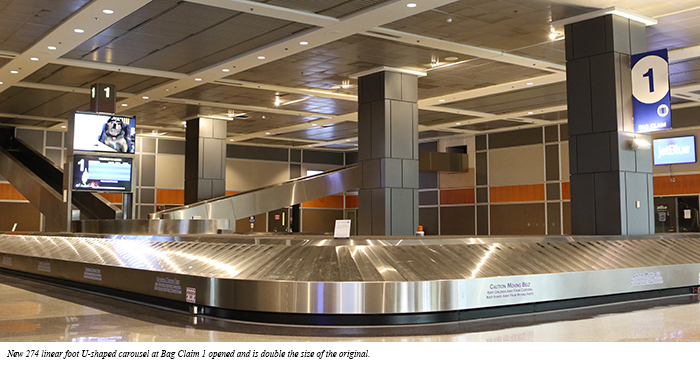 The construction to modernize and double the size of Carousel 1 at the Austin airport is complete as the carousel became operational on Nov. 1. The old 138 linear foot I-shaped bag claim system has been replaced by a new 274 linear foot U-shaped carousel. This almost doubles the size of the carousel that is now quieter and faster.
Work will next begin on replacing Carousel 2. As part of the overall airport improvement project, carousels 2-6 which are original equipment from 1999 will be replaced and modernized individually at their same size. Carousel 7 was constructed in 2015 along with Carousel 8 in Customs.
Elevators upgraded in garage, bio oil and reclaimed stone used
Frequent garage parkers will notice a fresh new look to three of the six elevators of the close in parking garage. The renovated elevators, No. 4-6 are now more energy efficient and quieter, using 100-percent biodegradable non-toxic hydraulic vegetable oil.  Modernizing the elevators with a new hydraulic ram system and new signage, the updated elevator cars now operate with a new air conditioning system and have new interior and flooring.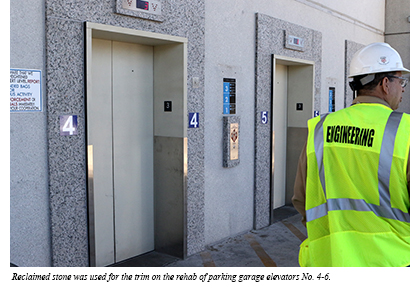 Reclaimed stone was used for the elevator trim. This was stone that saved from the infield construction project that create Customs and Checkpoint 1. The elevators dated back to 1999 when the terminal opened and had reached the end of its service life. Plans are set to begin the rehab of garage elevators 1-3 in early 2018 by Gadberry Construction Inc., the primary contractor for the elevator work.
Now two crews are working 12 hours shifts to complete the upgrades to the elevator, near Gate 13 that leads to the American Admirals Club, United Airlines Club and the Knot Anymore private treatment area. The clubs are accessible by stairs but if assistance for alternate elevator access is needed during the renovation please call (512) 903-6010 for assistance.
Austin Article opens near Gate 9
Austin Article has relocated to a new 2,467 square foot location next to the east terminal exit doors, across from Gate 9.
The store offers University of Texas apparel, best-selling books, magazines and snacks, Austin themed gifts, jewelry, hats and comfort travel items. Local Austin area products and brands include Lammes Candies, Epic chicken and bison jerky and Jardines sauces and salsa. Also selling kid's clothing and gifts, the open store-front designed Austin Article has historic names and images of the city and the surrounding areas.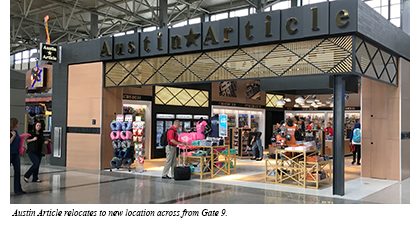 Operated by Paradies Lagardere, the Austin Article opens at 4 a.m. daily and closes after the final departures of nearby gates.
Aviation earns SMBR Department Advocate Award for diversity in contracting
Aviation was named the Small & Minority Business Resources (SMBR) Department Advocate Award winner at the 2017 Contractors' and Consultants' Appreciation Event for Diversity in Contracting.
The SMBR honor is awarded to a City of Austin department who shows commitment and support for SMBR's mission. The award recognizes the encouragement and promotion of subcontracting opportunities, to certified Minority-Owned Business Enterprise (MBE), Women-Owned Business Enterprise (WBE) and Disadvantaged Businesses Enterprises (DBE), to compete for work and contracts.
Aviation has 40 DBEs working on the 9-gate terminal expansion, new parking garage and administration building projects. There are 38 MBEs / WBEs providing professional services and construction subcontracting work, and 10 working on airport concessions.
October 2017 Updates

Vestibule renovations transitions to Phase II
The Austin-Bergstrom International Airport has opened four remodeled vestibules. These are the automatic sliding-glass entrances and exits to the Barbara Jordan Terminal.  The new vestibules are located near the upper-level Checkpoint 1 and 2 terminal entrances and in bag clam near International arrivals and Customs, and in front of carousel 5.
This is Phase I of the upgrade to modernize and replace the 13 vestibule entrances at the Austin airport. With the new vestibules, passengers will immediately notice that there is now 19.4 feet of space between the inside and outside doors, 10 feet more than the current vestibules at 9.4 feet.
The vestibules act as an airlock between the outside and inside environment. They aid in reducing cold and hot air drafts, enhancing energy performance and reducing energy costs. Flooring at the entries has recessed grates to capture dirt and moisture from being tracked into the building.
Phase II is set to begin and includes the closing and renovation of the lower level vestibule in front of the Badging and ID / Lost & Found office near SuperShuttle. The vestibule will be closed to foot traffic with a construction wall to allow for the upgrade that is part of the airports overall terminal improvement plan.
Second Bar + Kitchen ABIA holds official grand opening
Second Bar + Kitchen, a new American style restaurant, held its grand opening program on Oct. 10 with a tasting, live music and ribbon cutting program. Created and founded by award winning Chef David Bull, the Second Bar + Kitchen airport location mirrors the critically-acclaimed Austin establishment with an eclectic menu and Texas flavors.
The 1,939 square foot restaurant located near Gate 7 has seating for 66 patrons. It was designed using modern lighting with large scale pipe fixtures, metal drum shades and woven geometric pendant lights. Rich wood floors, leather upholstery and industrial style chairs where used in creating the restaurants appeal.
September 2017 Updates
An Airport of the Future – Recording Traffic for the ABIA 2040 Master Plan
Understanding how vehicle traffic flows into, out of and around the Austin-Bergstrom International Airport (ABIA) campus is behind a recent traffic study conducted as part of the ABIA 2040 Master Plan process. In late August, transportation planners installed small video recorders at twenty points around the ABIA campus. The devices measured movement along the terminal curbside, intersections, at parking garage entrances and along the roadways within and around the airport.
The devices recorded seven days of vehicle movements which were then entered into traffic simulation modeling software. These models help engineers and planners understand when and how various vehicle types – cars, trucks, 18-wheelers – move throughout the ABIA campus. 
"This technology also allows engineers and planners to know when and where the most traffic congestion occurs," explains Keri Burchard-Juarez, an engineer working on the ABIA 2040 Master Plan. "Understanding the current state of traffic flow helps the master plan team better prepare for the future."
The traffic study helps paint a detailed picture of the traffic around the airport. The detailed data will help planners determine ways to make future airport vehicle travel safe, seamless and timely.

Guitar shaped bus shelter taking form
The guitar shaped support structure for the new Austin airport and CapMetro bus shelter is forming with the delivery of steel and welding to attach the structural frame to the sidewalk foundation.
Estimated to be completed later this fall, the bus shelter will be 45-feet high at the neck and 30-feet high at the body of the illuminated tilted guitar that changes colors. It is designed to look like a guitar body coming out of the ground with neck and strings. Located outside of baggage claim, in the lower drop off and pick up level, beyond the taxi waiting area near Column 4, the shelter construction includes sidewalk and accessibility improvements.
Including benches, charging stations, and display monitors, the new shelter will continue to serve the CapMetro 100 – Airport Flyer bus route that connects the airport to downtown and the 350 – Airport Blvd. route that connects the airport to north Austin.
As construction continues there is no disruption to the existing CapMetro service to the terminal.
Terminal expansion continues
The 9-gate terminal expansion construction project has been underway for over a year and the skeletal structure, roof and project length are starting to reveal the final footprint of the addition. The expansion is extending 580 feet beyond the current existing terminal and is nearly 144-feet wide.
Currently, 10 of the 17 roof trusses, each spanning 135 feet across have been raised and attached. Second story slabs made of reinforced concrete are being poured and the cured second floors are visible to show the increasing terminal length.
The existing Barbara Jordan terminal that opened on May 23, 1999 is 18 years old and is also undergoing overall improvements projects. The projects include roof, vestibules, lighting, baggage claim and sprinkler system upgrades. The terminal is also undergoing new concession, store renovations and updates.
Other airport property improvements currently under construction includes enhancements to the airport roadway system, a new cell phone lot, new retail and gas station construction and a new 6,000 space parking garage.
Second Bar + Kitchen opens, offers sit-down seating
Second Bar + Kitchen, the newest restaurant at the Austin airport is now open near Gate 7. It is the first airport restaurant to offer a host and seated service.  Each seat in the restaurant has a charging station.
Inspired by its original downtown Austin location and menu, Second Bar + Kitchen is a New American restaurant that was created and founded by Chef David Bull. The airport location is led by executive chef Jesse Marco with a menu of hearty salads and a Black + Bleu pizza with black truffle, blue cheese, mozzarella, pork belly confit, and medjool dates. Further offerings include buffalo fried pickles, baked brie, and signature items like its SBK Club sandwich with chicken salad and the Congress Burger.
Second Bar + Kitchen opens at 4:30 a.m. with a new breakfast and brunch menu that includes Texas Benedict on biscuits, a breakfast pizza and Lone Star tacos. Developed by La Corsha Hospitality Group and operated by Paradies Lagardère the restaurant will offer a wide selection of crafted cocktails along with an international wine list curated by wine director Paula Rester.
The airport location is designed with wood floors, leather upholstery and industrial style metal chairs. Modern lighting includes large scale custom pipe style fixtures, metal drum shades and woven wood geometric pendant lights that aim for an urban and industrial appeal.
Fundraising for Hurricane Harvey victims
On Friday, September 1, 2017, Earl Campbell, legendary running back for the Houston Oilers and U.T. Longhorns, was at the airport to sign hats, jerseys and other sports merchandise in an effort to raise funds to support victims of Hurricane Harvey. Earl Campbell's Sports Bar donated 15% of the day's sales and all other Delaware North (DNC) restaurants and stores at Austin-Bergstrom International Airport donated 5% of sales.
310 piers to support new parking garage
A total of 310 concrete piers reaching depths up to 71-feet will support the new six-story parking garage currently under construction near the Barbara Jordan Terminal. The piers range from 24 to 66-inches in diameter to support the 6,000 parking space structure.
Working long hours, six days a week and using multiple drilling rigs, the general contractor Austin Commercial, is averaging 30 piers drilled per week until all are set.  The garage is divided into six zones with over 50 piers placed in each. The contractor is working east to west across the large construction site.
A web camera is currently available to view the latest progress, from the construction site of the new garage, near the Barbara Jordan Terminal. Go to http://workzonecam.com/projects/austincommercial1  to view the photos that are updated every 30 minutes and to watch the time-lapse movie of the project that is scheduled to be completed in 2018.
Salt Lick opens new location between Gates 12-13
At 1,454 square feet, the new Salt Lick Bar-B-Que location between Gates 12-13 at the Austin airport ope
ned on Aug. 22, more than doubling the size of its original location, which was 650 square feet. The new location now serves barbeque ribs and its signature sangria along with a changing selection of wines from the Salt Lick Cellars offerings. It will continue to serve brisket, breakfast tacos, sausages, sauces and rubs.
The new Salt Lick airport location, designed to have an industrial appeal with a glowing canopy of wood and steel mesh, has its own seating for dining and offers bar service. The new restaurant includes television screens, bar chairs and a signature curved Salt Lick meat carving station. Barbeque sauce rails are featured in the design along with distressed wood, exposed hardwood, timber ceiling and rough stone accents. These designs were inspired to continue genuine Texas barbeque feel of the original Salt Lick Driftwood location.
The former location across from Gate 12, in the west food court is now closed and the space offers grab-and-go items for purchase.
August 2017 Updates
Bird's eye view, three new tower cranes on site at future 6-story garage
Webcam gives bird's-eye view of new garage construction
A web camera, operated by Austin Commercial, lead contractor for the construction of the new 6,000-space garage near the Barbara Jordan Terminal, is now available. Go to http://workzonecam.com/projects/austincommercial1 to view the latest and to watch a time-lapse movie of the project's progress. Updated every 30 minutes, camera images also offer links to share on Facebook and Twitter.
Rendering of the new 6,000 space parking garage under construction at the Austin-Bergstrom International Airport. The garage is estimated to be completed in 2018.
Three tower cranes at new garage construction site
Three tower cranes are up and operating at the construction site of the new 6,000-space parking garage. The crane heights of 281, 161 and 104-feet high will do the heavy lifting for the planned six-story garage. 
With the construction of the 9-gate expansion on the east end of the Barbara Jordan Terminal and the new garage underway, there are five stationary tower cranes visible around the terminal. With mobile crawler cranes and the on-going roof replacement that started recently on the west end of the terminal, there may seven to eight cranes visible at one time.
July 2017 Updates
Steel tresses top 9-gate expansion construction
The installation of steel roof trusses marks another construction milestone for the Austin airport 9-gate expansion project. Construction walls are up for the new Austin Article retail near Gate 8 inside the Barbara Jordan Terminal.
Two of the 17 roof trusses are atop the future 9-gate expansion construction site and structure at the Barbara Jordan Terminal. This marks a construction milestone and symbolizes the height of the addition to the Austin airport that will add 88,359 square feet of new terminal gate area plus a wider concourse.
The first truss was installed on June 29 and the second installed on July 5. Each truss spans 135 feet by 17 feet and weighs 41,000 pounds to support the roof of the project. The expansion will increase the Barbara Jordan Terminal from 24 gates with jet bridges to 33 and is estimated to be completed in 2019.
New Austin Article location under construction
Construction has started on the new Austin Article news and gift retail store across from Gate 8, and right of the Ray Benson Roadhouse stage. A temporary construction wall encases the 2,557 square foot store that will offer one-stop shopping—from books and magazines to snacks, drinks, team apparel, and traditional souvenirs.
The new modern design for the Austin Article will showcase apparel at the side wall displays. Standalone display fixtures are included in the design with other shopping displays and items towards the rear of the store.
Austin Article is currently open at Gate 6 and is operated by concessionaire, Paradies Lagardere. Construction work is estimated to be complete by end of 2017.
More development at ABIA Retail visible
Structural steel for the ABIA Retail convenience store, restaurant space and gas station is visual. The roofing system has been delivered to the site. Customers will now see there are two structures visible for restaurant space and for the convenience store / gas station that will be located on airport property.
When ABIA Retail is complete it will also offer Austin Energy electric vehicle fast charging stations, a new cell phone lot, and playground area just off of Presidential Blvd., the main entry road to the Barbara Jordan Terminal.
Warehouse District opens outpost
With construction underway for a new Tyler's & Austin Warehouse location near Gate 9, the Austin Warehouse District has opened an outpost that extends to the Checkpoint 1 foyer near Gate 5. The extension from its nearby storefront features rotating items such as iconic Austin landmarks and Texas themed post cards, Texas salsa & dip mix, jerky, sauces, and taffy, along with Austin themed T-shirts.
June 2017 Updates
Demolition of Lot A marks construction start of a new parking garage
A 24-hour work schedule has been set for the demolition of Lot A which signifies the start of the construction for the new 6,000 space parking garage at the Austin airport. Inside the terminal construction for a new retailer, Tyler's & Austin Warehouse, has started across from Gate 10.
Heavy truck loads, 24-hour work schedule set for parking demolition
Construction crews have started a 24-hour a day, six days a week schedule to rev-up the Lot A demolition work. A heavy truck load plan is in place at the location for the future home of the new 6,000 spaces parking garage at the Austin airport.
Austin Commercial LP is digging out 4.5 feet of dirt across the site which is nearly three football fields from side to side. It is estimated that approximately 80,000 yards of mixed soil will be hauled off. That translates to nearly 8,000 dump trucks loads, averaging 120 truckloads per day – five per hour or one truckload per every 12 minutes.
A large portion of the dirt dug out will be re-purposed and used as base material in the construction of the new parking garage. Work is scheduled over the next several months to complete the demolition of Lot A before pier drilling and foundation work begins. Then the first of three 208 feet tall temporary tower cranes are scheduled to be installed.
New Tyler's & Austin Warehouse retailer under construction
Construction has started on the new Tyler's & Austin Warehouse retail store located in front of Gate 10, next to the Ray Benson Roadhouse. A temporary construction wall incases the 2,211 square foot store that will offer mix products and materials that reflect the culture and playful spirit of Austin and surrounding Central Texas hill country.
Offerings include a full line-up of Tyler's branded goods, TOM's Shoes/bags and sunglasses, Austin City Limits apparel/souvenirs and music, South by Southwest apparel and souvenirs, Keep Austin Weird, full assortment of flavorful foods from the Austin area as well as locally crafted themed merchandise and souvenirs. Other items include footwear, sporting apparel, seasonally changing based upon needs of traveling guests, University of Texas apparel and Yeti branded products.
Tyler's will have a design that is new to the airport concourse with its custom Tyler's overhead signage, metallic graphics, tree stump displays and clear acrylic AUS letters mid-store. Designs also include geometric flooring, woven textiles, and industrial fixtures and pitched wood structures.
The airport is the third Austin area store for the retailer that was established in Tyler, Texas in 1978. Tyler's airport store will be operated by concessionaire Delaware North and construction work is estimated to be complete by end of 2017.
Roof trusses delivered for 9-gate terminal expansion
The growth of the skeletal frame of the 9-gate expansion continues at the Austin airport. The construction site is preparing for the delivery and installation of the 17 steel roof trusses and support castings. Each roof truss spans 135 feet by 17 feet and weighs 41,000 pounds each.  The trusses were fabricated by W&W-AFCO Steel.[/column_1]
[/column]